Inteliment's Opensource Centre of Excellence (OS CoE) focuses on many open source technologies in different areas – platforms, databases, development environments, application servers, testing and reporting tools. The COE strives to standardize the execution and implementation of open source software/products. It is the source of documentation, guidance, shared best practices and metrics for our project teams, developing and maintaining solutions for our customers and partners.
Opensource Practice Highlights
Technology Partnerships with Google, Apple, Intel, Hadoop, Python, R, Django
14+ years proven track record on Opensource, analytics, cloud, coloration platforms
Inteliment's data science & analytics platform integrated open source tools & technologies
Recognized as leading big data solution provider by CIO Review magazine
1000+ man-years of data analytics experience
500+ BI, DHW, big data, analytics projects successfully delivered across multiple industries
Opensource centre of excellence
Our team strives to standardize the implementation of Opensource software to provide the most efficient and reliable solutions possible.
Cost Advantage – By making use of open source technologies, we pass on the cost advantage to our clients
Better Control – Opensource technologies allow our clients to modify the code and have better control of the software developed
Lower Maintenance – The opensource tools we utilize are license-free and the cost of scaling up is minimal, as it does not require additional licenses
Security & Quality – We make sure that we utilize opensource technologies that are highly secure
Develop reusable components that can be used across projects and Increase overall user adoption
Promote cross-platform flexibility
Create a maintainable knowledge base amongst the teams
Bridging the gap between technology and business
We don't just develop data-driven analytical applications, we partner with you to create impactful solutions and long-term business success for you.

Dreaming Big
We share your passion for your vision and will help you shape, then share it.

Charting Your Course
Achieve your vision in the shortest route, addressing your risks and challenges along the way.

Buying Smart
Find the best of the new with the wisdom of the experienced.

Driving Adoption
Make change stick, get the value that you counted on, and make the habit a practice.

Measuring & Monitoring
Give your team a dashboard and keep all eyes on the needle.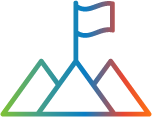 Forecasting What Is Coming Next
Uncover the mysteries behind data science by focusing on your business needs.